I have been in full holiday mode. I love the holidays, but I hate that I can't ever seem to stay on top of things. I have a couple cool projects up my sleeve that I am working on and I am planning on starting my holiday baking on Wednesday so you can look forward to some yummy cookie posts in the near furtue. But for today I want to ask you a question?? Have you seen this awesomeness?
I LOVE this. If you could I would just put it right in my front room. I am thinking I need to find time to make one for my family room I don't have room for all three, but I think one large print like this could be amazing between the windows in my family room. Landee has the free printables in a much more manageable size
here.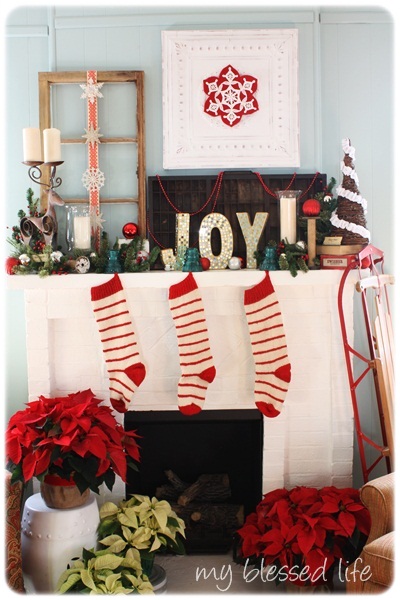 Yup. That is some serious awesomeness from
my blessed life
. I LOVE all the layers of details. How does she keep her kids from destroying this. Pretty sure my kids would knock over the flowers and try to use the sled in a matter of minutes. Is it just my kids or have everyone elses kids gone crazy recently? I think they are just excited about Christmas being so close... or it could be that I met each of them make their own gingerbread house this year and I am letting them eat them.... Bryce, being the wise almost 2 year old that he is dumped handfuls of M&Ms in the yard of his house.
You can see Bryce's M&M house in the background here with Logan. Silly kid. I know at one point that day he was properly dressed and his hair was done. But I love the umm..... pose.? He really likes to pose for pictures, to bad his poses are't usually ones that I would have chosen. At least he is not lacking personality. right..
I totally ADORE
the garland on the railing.
Ahhh Someday..... I also love pretty much everything else about this set up. It's like Christmas at Martha Stewart's house.
Also I have been completely un-inspired when it comes to decorating my front porch this year. We are having a big Christmas Eve party at our house and I want it to be really welcoming, but I am just not feeling it. Any ideas??? I guess I will have to waste some more time on Pinterest.