This Giveaway is closed, but you can still buy the tutorial here.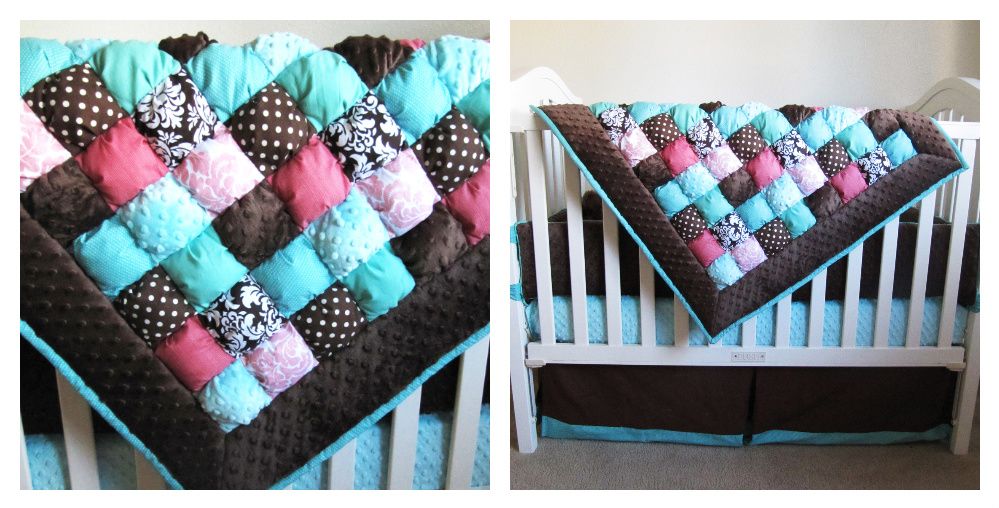 Aren't these puff quilts dreamy? I just love them. They are the creation of the oh-so-talented Heidi at
Honeybear Lane
and are very high up on my things-to-make list.
I really want to make my friend
Ziggy
here for my baby Bryce. He loves to cuddle all things soft and fluffy and I am sure he would LOVE a quilt like this.
Heidi sells a super awesome tutorial detailing in clear, easy steps exactly how to make one of these beauties.
With it, you can learn to sew a puff quilt with a sewing machine! Traditionally these quilts have been sewn by hand, taking hours, days, and weeks to create something that you can now make in a matter of days! This tutorial is very comprehensive, so even if you are a beginner, intermediate, or experienced sewer, you will be able to create a beautiful baby size puff quilt! 57 pages, 50 steps.The tutorial makes a 36x36 puff quilt, but includes a page of calculations if you want to make a bigger size. Tips on choosing fabrics and cutting are also included!
This Giveaway has now ended
.
But you can still save 25% on the tutorial. Just enter Corner25 at checkout!
And guess what Heidi is GIVING AWAY 100 hundred puff quilt tutorials to you lucky readers.
Are you excited now?
First

you

must

be a

Corner House follower

(meaning click on the little follow button off to the right).
Then you just go over to Honeybear Lane's Facebook page and like Honeybear Lane on facebook. Leave a comment on her facebook page letting her know you follow us and leave her your email address and she will email you a copy of her tutorial absolutely free.
If it so happens you are not one of the first lucky 100 people to take advantage of the mass giveaway, don't worry Heidi has also been generous enough to supply all my Corner House readers with a 25% off discount.
The code is good for 5 days so act fast and happy puff quilting.